Summer in New Orleans
Throw shade at cancer for a fellow Nole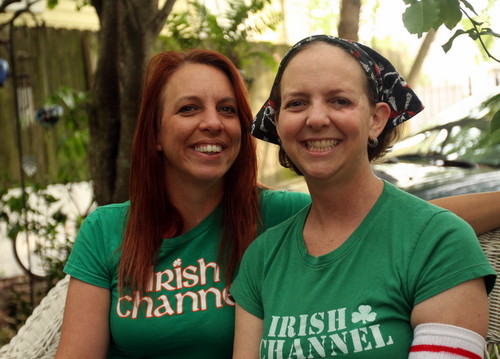 Community activist/neighborhood leader/Nole/mother Kara Morgan was diagnosed with Stage IV Melanoma in February, and has begun aggressive treatment at the renowned MD Anderson Cancer Center in Houston, Texas. Over and above what her medical insurance covers, Kara will incur the cost of frequent trips to Houston with extended overnight stays. These expenses, combined with the mounting out-of-pocket medical costs, will place a significant financial burden on Kara and her family.  A fundraiser has been organized to help off-set some of these mounting costs – and it's this Friday night!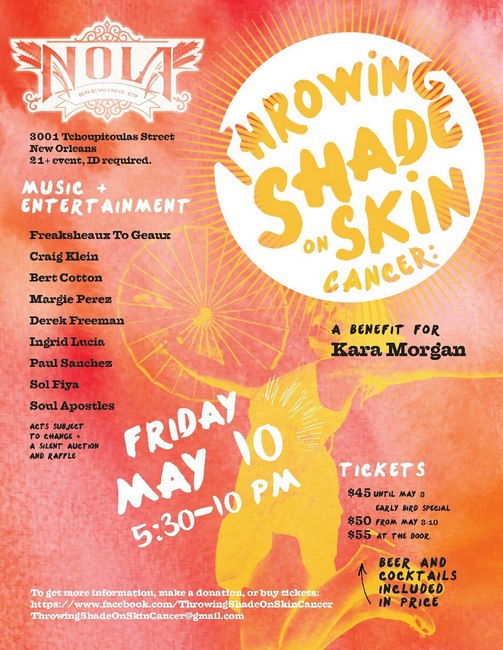 Friday, May 10 | 6:00 p.m. – 10:00 p.m.| NOLA Brewing Co. (3001 Tchoupitoulas Street, New Orleans)
The benefit will include beer and liquor (included in the cost of the ticket), silent auction, raffle, food trucks, and more. Entertainment by Freaksheaux To Geaux, a burlesque troupe, and live music by Craig Klein, Bert Cotton, Margie Perez, Derrick Freeman, Ingrid Lucia, Paul Sanchez, Marc Stone, Soul Apostle, Chris Boone with Sol Fiya and others.
Tickets are currently $50, but will be $55 at the door.
21+ ONLY event – IDs will be checked at the door.
Buy tickets online: http://www.eventbrite.com/event/6156152217/efbbt#
If you can't attend but want to contribute, click here to donate via PayPal: https://www.paypal.com/us/cgi-bin/webscr?cmd=_flow&SESSION=Q5LF_GW2JCuM54Xy_HLkpH51oJJ2RSSsxCx-zbxxzPuj2mOvVxoPDAf4M-q&dispatch=5885d80a13c0db1f8e263663d3faee8d96fc0752e9614158f04872d2f2ae25dc
Seminole Night at the Zephyrs
It's that time, y'all – on Saturday, July 20, join the Greater New Orleans Seminole Club for Seminole Night at the Zephyrs. Call Greg at the Zephyrs at 504-734-5155 for your $9 lower level tickets. We'll all sit together, and we'll probably be able to share a brief meet-and-greet with a former Nole baseball player (as you know, rosters are somewhat fluid during the season). The Zephyrs are also giving away baseball cards that night, and apparently are offering post-game wrestling?
Well then. Go Noles!
Other FSU news of note:
Save the date, too, for Thursday, August 15 for our fall kickoff party! We'll be joined by sportscaster/Nole/and fellow n'er-do-well Tom Block!
On a slightly more serious note, I am expecting my second child, to be born just before football season. I would LOVE some help with setting up game watches and club events this fall, so if you can spare a Saturday afternoon here and there, please let me know at nolanoles@gmail.com. Thanks!